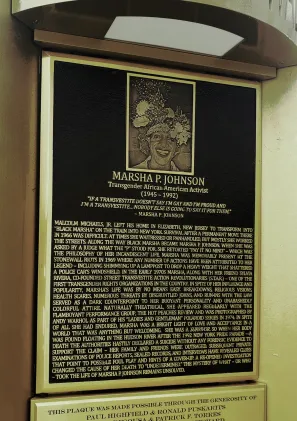 Plaque Sponsor
Paul Highfield and Ronald Puskarits; Paul DeSousa and Patrick F. Torres; Elizabeth Liechty; Chris Pritchard; Laura Angelucci and Jennifer Baker
1945 - 1992
"If a transvestite doesn't say I'm gay and I'm proud and I'm a transvestite…
...nobody else is going to say it for them."
– Marsha P. Johnson
Malcolm Michaels, Jr. left his home in Elizabeth, New Jersey to transform into "Black Marsha" on the train into New York. Survival after a permanent move there in 1966 was difficult. At times she waitressed or panhandled, but mostly she worked the streets. Along the way Black Marsha became Marsha P. Johnson. When she was asked by a judge what the "P" stood for, she retorted "Pay it no mind" – which was the philosophy of her incandescent life. Marsha was memorably present at the Stonewall Riots in 1969 where any number of actions have been attributed to her legend – including shimmying up a lamppost to drop a heavy weight that shattered a police car's windshield. In the early 1970s Marsha, along with her friend Sylvia Rivera, co-founded Street Transvestite Action Revolutionaries (S.T.A.R.) – one of the first transgender rights organizations in the country. In spite of her influence and popularity, Marsha's life was by no means easy. Breakdowns, religious visions, health scares, numerous threats by disgruntled johns, and run-ins with the law served as a dark counterpoint to her buoyant personality and unabashedly colorful attire. Naturally theatrical, she appeared regularly with the flamboyant performance group, the Hot Peaches Review, and was photographed by Andy Warhol as part of his "Ladies and Gentleman" Polaroid series in 1974. In spite of all she had endured, Marsha was a bright light of love and acceptance in a world that was anything but welcoming. She was a survivor. So when her body was found floating in the Hudson River after the 1992 New York Pride Parade – a death the authorities hastily declared a suicide without any forensic evidence to support the claim – her family and friends were outraged. Subsequent private examinations of police reports, sealed records, and interviews have revealed clues that point to possible foul play and hints of a cover-up. A re-opened investigation changed the cause of her death to "undetermined." The mystery of what – or who – took the life of Marsha P. Johnson remains unsolved.
Demography
Gender Female
Sexual Orientation Straight
Gender Identity Transgender
Ethnicity African American Black
Nations Affiliated United States
Era/Epoch AIDS Era (1980-present) Post-Stonewall Era (1974-1980) Stonewall Era (1969-1974)
Field(s) of Contribution
Advocacy & Activism
Entertainer
Social Justice
Social Sciences
US History
Commemorations & Honors
Belated New York Times Obituary Published (2012)
National LGBTQ Wall of Honor at the Stonewall National Monument Inductee (2019)
WorldPride Mural Project and Stonewall 50-WorldPride NYC 2019 Mural Dedicated to Queer Liberation Featuring Johnson and Others (2019)
Marsha P. Johnson State Park (East River State Park) Renaming (2020)
Google Doodle Commemorating Johnson's Posthumous 2019 World Pride Grand Marshal Status (2020)
Bust Erected in New York City's Christopher Park Near the Stonewall Inn in Her Honor by Community Activists and Artists (2021)
Upcoming Greenwich Village Monument Honoring Marsha P. Johnson and Sylvia Rivera