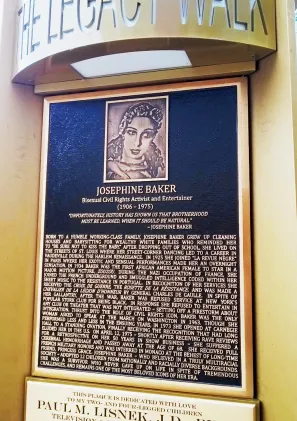 Plaque Sponsor
Television and Radio host, and Author Dr. Paul M. Lisnek, J.D., Ph.D., dedicates this plaque "In Memory of Jean-Claude Baker and with love to my two and four-legged children."
1906 - 1975
"Unfortunately, history has shown us that brotherhood must be learned, when it should be natural."
- Josephine Baker
Born to a humble working-class family, Josephine Baker grew up cleaning houses and babysitting for wealthy white families who reminded her to "be sure not to kiss the baby." After dropping out of school, she lived on the streets of St. Louis where her street-corner dancing led to a career in Vaudeville during the Harlem Renaissance.  In 1925 she joined "La Revue Nègre" in Paris where her exotic and sensual performances made her an overnight sensation. In 1934 Baker was the first African American female to star in a major motion picture, Zouzou. During the Nazi occupation of France, she joined the French Underground and smuggled intelligence coded within her sheet music to the resistance in Portugal. In recognition of her services she received the Croix de Guerre, the Rosette de la Résistance, and was made a Chevalier de la Légion d'honneur by General Charles de Gaulle. In spite of her gallantry, after the war, Baker was refused service at New York's popular Stork Club for being black. In response she refused to entertain in any club or theater that was not integrated – setting off a firestorm about integration. Thrust into the role of civil rights icon, Baker was the only woman asked to speak at the March on Washington in 1963. Though she performed less and less in the ensuing years, in 1973 she opened at Carnegie Hall to a standing ovation, finally receiving the recognition that had long eluded her in the U.S. On April 12, 1975 – shortly after receiving rave reviews for a retrospective on her 50 years in show business – she suffered a cerebral hemorrhage and passed away at the age of 68. She received full French military honors and was interred in Monaco at the behest of long-time friend, Princess Grace. Josephine Baker – who believed in a truly multiracial society – adopted 12 children from nationally and racially diverse backgrounds. She was a true pioneer who never gave up on life in spite of tremendous challenges, and remains one of the most beloved icons of her era.
EDITORS NOTE: To honor her many accomplishments on behalf of the French people, President Emmanuel Macron announced that Josephine Baker would join 75 men and 6 women from French history entombed in France's Pantheon. On November 30, 2021, a coffin containing handfuls of earth from four places Baker had lived – the City of St. Louis, where she was born; Paris, her "second love"; the Château de Milandes where she lived in southwest France; and Monaco, her final resting place – was interred in this national mausoleum. The original grave-site where she was laid to rest in 1975 will remain undisturbed at the request of Baker's family. Baker is the first Black woman in history to be honored in the Pantheon, joining such luminaries as Voltaire, Jean Rousseau, Victor Hugo, and Marie Curie.
Demography
Gender Female
Sexual Orientation Bisexual
Gender Identity Cisgender
Ethnicity African American Black Native/Indigenous
Faith Construct Catholic
Nations Affiliated United States France
Era/Epoch Civil Rights Movement (1954-1968) Harlem Renaissance (1919-1929) Jazz Age (1910-1940) World War II (1939-1945)
Field(s) of Contribution
Advocacy & Activism
Art, Music, Literature & Theater
Diplomacy
Entertainer
Film
Media & Communications
Military
Music
Social Justice
Social Sciences
US History
World History
Commemorations & Honors
Montparnasse Quarter of Paris Named Place Joséphine Baker in Her Honor
Croix de Duerre by the French Military (1945)
Chevalier of the Légion d'Honneur (1945)
Posthumous St. Louis Walk of Fame Inductee (1990)
Posthumous Hall of Famous Missourians Inductee (1995)
Google Doodle Commemorating Baker's 111th Birthday (2017)
San Francisco Rainbow Honor Walk Honoree (2018)
First Black Women Entombed in the Panthéon in Paris (2021)