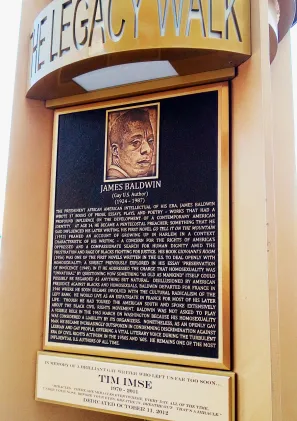 Plaque Sponsor
In memory of a brilliant gay writer who left us far too soon Tim Imse (1970-2011) who said "Miracles, there are miracles everywhere, everyday, all of the time, under your nose, before your eyes, breathe in, breathe out - that's a miracle."
1924 - 1987
"Love does not begin and end the way we seem to think it does. Love is a battle, love is a war; love is a growing up."
 - James Baldwin
The preeminent African American intellectual of his era, James Baldwin wrote 17 books of prose, essays, plays, and poetry – works that had a profound influence on the development of a contemporary American identity. At age 14, he became a Pentecostal preacher; something that he said influenced his later writing. His first novel Go Tell It on the Mountain (1953) framed an account of growing up in Harlem in a context characteristic of his writing – a concern for the rights of America's oppressed and a compassionate search for human dignity amid the frustration and rage of blacks fighting for justice. His book Giovanni's Room (1956) was one of the first novels written in the U.S. to deal openly with homosexuality; a subject previously explored in his essay 'Preservation of Innocence' (1949). In it he addressed the charge that homosexuality was "unnatural" by questioning how something "as old as mankind" itself could possibly be regarded as anything but natural. Disillusioned by American prejudice against blacks and homosexuals, Baldwin departed for France in 1948 where he soon became involved with the cultural radicalism of the Left Bank. He would live as an expatriate in France for most of his later life. Though he had toured the American South and spoke extensively about the Black Civil Rights Movement, Baldwin was not asked to play a visible role in the 1963 March on Washington because his homosexuality was considered a liability by its organizers. Nonetheless, as an openly gay man, he became increasingly outspoken in condemning discrimination against lesbian and gay people, offering a vital literary voice during the turbulent era of civil rights activism in the 1950s and '60s. He remains one of the most influential U.S. authors of all time.
Demography
Gender Male
Sexual Orientation Gay
Gender Identity Cisgender
Ethnicity African American Black
Nations Affiliated United States France Switzerland Turkey
Era/Epoch Civil Rights Movement (1954-1968) Cold War (1945-1991) Information Age (1970-present) Post-Stonewall Era (1974-1980)
Field(s) of Contribution
Advocacy & Activism
Art, Music, Literature & Theater
Author
Editor
Journalism
Media & Communications
Poet
Social Justice
Social Sciences
Theater
US History
Commemorations & Honors
Time Magazine Cover (1963)
National James Baldwin Literary Society Founded (1987)
James Baldwin Scholars Programs Established at Hampshire College in Amherst, Massachusetts (1992)
U.S. Postal Service Commemorative Stamp (2005)
James Baldwin Place Named in New York City (2014)
The New School's University Center Social Justice Hub Named the Baldwin Rivera Boggs Center After Activists James Baldwin, Sylvia Rivera, and Grace Lee Boggs (2014)
Inaugural San Francisco Rainbow Honor Walk Honoree (2014)
East 128th Street, between Fifth and Madison Avenues Where he Lived Renamed James Baldwin Place (2014)
I Am Not Your Negro Documentary Released (2016)
National LGBTQ Wall of Honor at the Stonewall National Monument Inductee (2019)
Baldwin's Upper West Side Residence Given Landmark Status by New York City's Preservation Commission (2019)