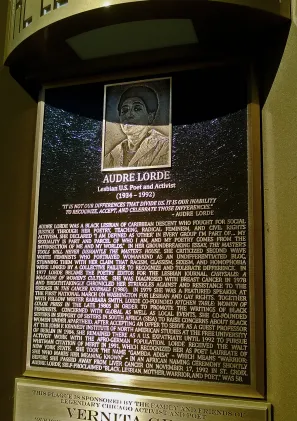 Plaque Sponsor
This plaque is sponsored by the family and friends of legendary Chicago activist and poet Vernita Gray who said "Our movement since day one has been about being treated with the dignity and respect due us as human beings in this culture."
1934 - 1992
"It is not our differences that divide us. It is our inability to recognize, accept, and celebrate those differences."
- Audre Lorde
Audre Lorde was a black lesbian of Caribbean descent who fought for social justice through her poetry, teaching, radical feminism, and civil rights activism; declaring "I am defined as other in every group I'm part of… my sexuality is part and parcel of who I am, and my poetry comes from the intersection of me and my worlds." In her groundbreaking essay, The Master's Tools Will Never Dismantle the Master's House, she criticized Second Wave white feminists who portrayed womankind as an undifferentiated bloc, stunning them with her claim that racism, classism, sexism and homophobia were linked by a collective failure to recognize and tolerate difference. In 1977 Lorde became the poetry editor for the lesbian journal, Chrysalis: A Magazine of Women's Culture. She was diagnosed with breast cancer in 1978 and breathtakingly chronicled her struggles against and resistance to the disease in The Cancer Journals (1980). In 1979 she was a featured speaker at the first National March on Washington for Lesbian and Gay Rights. Together with fellow writer Barbara Smith, Lorde co-founded Kitchen Table: Women of Color Press in the late 1980s in order to promote the writings of black feminists. Concerned with global as well as local events, she co-founded Sisters in Support of Sisters in South Africa (SISA) to raise concerns about black women under apartheid. After accepting an offer to serve as a guest professor at the John F. Kennedy Institute of North American Studies at the Free University of Berlin in 1984, she remained there as a U.S. expatriate until 1992 to pursue activist work with the Afro-German population. Lorde received the Walt Whitman Citation of Merit in 1991, which recognized her as poet laureate of New York State. She took the name "Gambda Adisa" – which means "Warrior: She Who Makes Her Meaning Known" – in an African naming ceremony shortly before she passed away from liver cancer on November 17, 1992 in St. Croix. Audre Lorde, self-proclaimed "black, lesbian, mother, warrior, and poet," was 58.
Demography
Gender Female
Sexual Orientation Lesbian
Gender Identity Cisgender
Ethnicity African American Black
Nations Affiliated United States Germany
Era/Epoch Civil Rights Movement (1954-1968) Post-Stonewall Era (1974-1980)
Field(s) of Contribution
Academics
Advocacy & Activism
Art, Music, Literature & Theater
Author
Education
Journalism
Media & Communications
Poet
Social Justice
Social Sciences
US History
Commemorations & Honors
American Library Association Gay Caucus Book of the Year Award (1981)
Walt Whitman Citation of Merit Which Made Her New York State Poet Laureate (1991)
Publishing Triangle Bill Whitehead Award for Lifetime Achievement (1992)
Audre Lorde Project (1994)
Publishing Triangle Instituted the Audre Lorde Award for Lesbian Poetry in Her Name (2001)
National LGBTQ Wall of Honor at the Stonewall National Monument Inductee (2019)
San Francisco Rainbow Honor Walk Honoree (2019)
Lorde's Staten Island Residence Given Landmark Status by New York City's Landmarks Preservation Commission (2019)
Google Doodle Commemorating Lorde's 87th Birthday (2021)
Corner of 68th St. and Lexington Ave. in New York City Renamed Audre Lorde Way (2022)